On May 1st, 2012, the largest organized protest in the history of the world took place: the Occupy May Day General Strike. Millions of people around the world gathered in unimaginable numbers across the streets of almost every major city in almost every civilized nation, to protest the massive social and economic injustice that permeates almost every level of global society. It was a tour de force of an unprecedented scale, a triumphant return of the Occupy Movement to the center stage of global politics. In American cities like Oakland, Chicago, Detroit, and of course, New York, massive demonstrations and sit-ins took place, police brutality was rampant, and tens of thousands of people were arrested nationwide in unswerving dedication to the defiance of our corporate and Federal masters.
So what happened?
Fast forward a month and a half, and all is quiet on the American Occupy front. Too quiet. While reports continue to flood in from places like Spain, Greece, Canada, Egypt, and countless other locations that the movement is alive and well, it seems we've barely heard a peep from American Occupiers by comparison. Consider the following:
Massive student strikes combined with independent student coalitions in Montreal have forced the Canadian government to reconsider the sizable tuition hikes of the last year, and coal miners in Spain have boarded themselves up in mining caves and labor encampments to protest unfair wages and unsafe conditions, using jury-rigged missiles, small-scale projectile weapons, and riot defense gear abandoned by police forces that have failed to extricate the protesters to defend themselves against eviction. Recently, thousands of people gathered in Cairo's Tahrir Square to protest the power grab on behalf of the military against the new president, Mohamed Morsi, and in Greece, where the economy has all but collapsed due to the implementation of crippling austerity measures, thousands of Grecians have turned out to protest against the far-right wing Golden Dawn party, amidst allegations of further budget cuts and Neo-Nazi ties.
These people are organized, determined, and too angry to be afraid any longer. Using anything and everything at their disposal, they are slowly but surely shifting the balance of power throughout many countries in Europe and the Middle East, often by nearly any means necessary. And they're winning.
What does America have? The Guitarmy marching in honor of Woody Guthrie? Zombie crawls to protest austerity measures in Denver? Film festivals? Dance parties? A sea of tents blighting city parks and public spaces across the nation, filled with people who seem more interested in arguing with each other rather than with the ones they are in actual disagreement with? The overall image of Occupy: America in the eyes of the general public is one more of a never-ending festival than a serious, vital reform movement.
This is not to say that Occupy: America isn't actually fighting the good fight – the recent silent march in New York City to protest the Stop and Frisk law drew a great deal of attention to racial profiling across the city, Occupy: Homelessness protests in the homes of unfair foreclosure victims across the Midwest have been making banks think twice before they do shady deals again, and the protests against school closures in Oakland among them are making city officials uncomfortable – but it would appear to most that, since the General Strike, Occupy: America has begun to slip in its pace, while only just revving to life across the globe.
Much of Occupy: America's reputation and influence have been distorted by widespread media suppression of events, as well. It's almost impossible to find reports on anything involving the Occupy Movement through the mainstream media these days, and even harder to say what is accurate. Even left-leaning major networks like Current TV and MSNBC aren't really touching the subject, unless it's to report on some of the milder, more congenial happenings taking place. Today, much of what you see in the media involving American Occupiers is young, white, semi-privileged hipster upstarts who seem more interested in being seen by each other than by the ones they're fighting against, perpetuated by media organizations like Fox News and the Media Research Center, two of the chief media cronies for the GOP.
Furthermore, amidst claims by the hacking group Anonymous, OccupyWallSt.org, and independent media agency Russia Today that websites like YouTube and Yahoo! are actively censoring videos of more violent protester/police clashes both here and abroad on behalf of the U.S. government, it's difficult to estimate the current size and scope of the movement here in America today. But given the incredible number of alternative information tools and sources currently available to the general public, as well as the massive amount of people that are making use of them, whether on the front lines or behind their laptops, it seems doubtful that the same militant stand is being taken to rail against oppression and tyranny here in America as it is worldwide, a thing which could potentially condemn Occupy: America to obscurity.
When Occupy: Wall Street kicked off in September of 2011, it's hard to say whether the organizers of the occupation had any idea of the kind of impact their act would have on global politics. Inspired by the student protests in Britain during the previous year and the upheaval of various governments in the Middle East resulting from the Arab Spring, Occupy: Wall Street appeared to have had high hopes, but low expectations. When the initial location for the occupation - One Chase Park in the heart of the Wall Street financial district - was leaked to the NYPD prior to the occupation, rather than standing their ground and taking One Chase Park in the spirit of civil disobedience, the organizers of the event instead chose to capitulate to city officials and base the occupation in Zucotti Park, a location several blocks away that Mayor Bloomberg had designated as a more 'acceptable' protest location. (Zucotti Park just so happens to be safely out of sight of the very Wall Street executives responsible for so much of the collapse of our economy, by the way.) It is this author's opinion that this lack of foresighted resistance set a dangerous precedent for the long-term success of the movement domestically. If the spirit of the Occupy Movement is one of resistance and defiance to the powers that be, then why on Earth was the first major decision of the movement one of compromise to those same authorities, before the movement even had a chance to begin?
A Double-Edged Sword
Since its inception, Occupy: America's biggest strengths have also their greatest weakness: decentralization, innate mistrust of authoritarian values, and the lack of a definitive agenda. The fluidity of the movement has allowed it to spread far and wide across the country in unprecedented and innovative ways, and the collective mistrust of our nation's authority figures has stirred great passion in the hearts and minds of millions across the country. But the lack of solid infrastructure and flat unwillingness to stand behind a specific set of demands on a national level has done great damage to Occupy: America's legitimacy, a thing that has been quite tenuous since the very beginning. These things are often highlighted much to the detriment of Occupy's reputation, portraying Occupiers across the country as burned-out slackers, dangerous dissidents or even outright terrorists. But even the Civil Rights Movement had a fairly clear agenda to rally behind in order to rise above the criticisms of the movement's detractors, compared to what we've seen today: the end of segregation and Jim Crow laws across the South, and getting black people across the nation the right to vote. With simple, measurable goals to rally behind, strong leaders were able to come forth and take the message of the movement far and wide, powerful public speakers and private organizers like Martin Luther King, Jr. and Fred Shuttlesworth, who were able to guide both the peaceful and the militant to victory through fiery rhetoric and clear, authoritative messages.
The general assembly governing model currently employed by the majority of Occupy: America organizations and encampments refuses to acknowledge any form central leadership through electoral process, instead choosing to implement an egalitarian model of legislation that allows for all voices and opinions to be heard every time an assembly is called. It's a lot like Congress, but without majority or minority leaders, or a president for them to answer to. The idea behind this model, according to most Occupiers, is that creating a specific list of demands or electing central leadership will corrupt the movement, trump its effectiveness, and ultimately shorten its lifespan. But every business has a boss, and every team needs a captain; someone to be held accountable for steering the course to long-term success, holding others accountable for their individual required contributions by overseeing a vision of what success looks like.
People need leaders to look up to, whether they're willing to acknowledge this fact or not. Without authoritative figures to inspire and challenge them, most people will simply tow the line and not do much more than is expected of them. In regards to Occupy: America, this seems to translate into a widespread reluctance to stick your neck out at risk of having your head caved in, often literally.
Fear Is The Movement-killer
Let's face it: most people are afraid of the law. And who can blame them? All of us have seen at least some of the footage of a few protests by now, and have witnessed the 'crowd control' tactics used by American authorities these days. Tear gas, tasers, and pepper spray(which happens to be outlawed by the Geneva Convention for usage in times of war, by the way) have replaced the fire hoses and billy clubs of the Sixties as the rule of the day for keeping protesters in line, as well as batons that resemble baseball bats more than billy clubs, and protection gear that looks like something straight out of Mad Max: Beyond Thunderdome.
The cops present a terrifying image at a protest when standing in a line, heavy-duty shields in the left hand and riot batons in the right, clashing the latter against the former with every menacing jackboot step that they take, causing many of even the most hardened protesters to quake in their boots. As soon as the tear gas cannisters begin to fly and the clubs begin to swing, most of the crowd quickly scatters to the four winds, making the rest easy pickings for arrests, or worse, beatings. The example that the police have set – don't fuck with the status quo or we WILL hurt you – can only be countered by strong messages of courage and hope, shouted forth by stronger, fearless leaders. It's often said that 'terrorists' are what the bigger army calls the smaller army in times of war. So if they call us terrorists, then we must be at war. If we are at war, that makes us an army. If we're an army, where are our generals?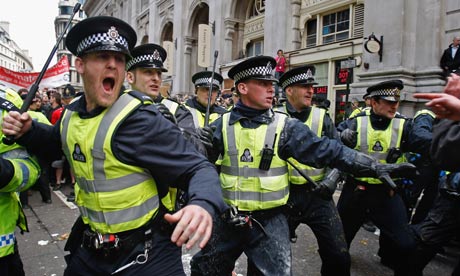 Yes, people will be hurt. Yes, many will probably even die. But this fact is an inevitability in widespread civil disobedience, regardless of the level of unification it achieves. As, long as the Occupy Movement exists, those who wish its destruction around the world will actively pursue it, and they have the money, the tools, and most importantly, the indefatigable will with which to use both to achieve their ends. The powers that be are desperate to maintain the control they have so carefully and methodically established over the years, and the more public pressure applied that is applied to them, the less they will hesitate to use any means necessary to subvert the will of the common people. We've seen this done time and again throughout the course of human history, yet it seems many Americans have the perception that they are or will be somehow immune to the ravages of authoritarian oppression, if(should I say when?) that time comes. If we don't complain too much, they'll give us enough to get by, and maybe they won't hurt us too bad along the way, right? America is under the spell of a collectivist form of Stockholm Syndrome, one that desperately needs reversing if we are to progress any further in our struggle. Our nation is a squalling, attention-starved infant in the spectrum of human history, and while our birth and short life have indeed been a violent one, we've not begun to touch upon the level of domestic savagery that so many countries have been subjected to hundreds, if not thousands of times over. But every day we stand up and challenge our oppressors, we move one day closer to this very truth.
In addition, Americans are so subtly insulated on an everyday level from the things we're fighting against that, to many of us, our struggles seem more unique to our own neighborhoods than to our national community. If you were to step out your front door and take a walk around your neighborhood, would you be able to tell from the expressions of the people on the street that we are waging a largely secret, CIA-backed war of attrition in Pakistan? Or that recently, California lawmakers recently rejected a piece of legislation that requires oil and natural gas companies to notify property owners whether they are going to employ hydraulic fracturing(fracking) to extract natural gas anywhere near their property lines? You most likely would not. The collusion between big government, big business, and big media has allowed the three to spread a thick blanket of ignorance across our vast nation, one driven by the spread of petty, selfish desires and codified through viciously oppressive legislation, and greatly exacerbated by the vast physical distances that separate so many of us. We struggle so much in our daily lives just to survive that many of us fail to see the bigger picture of our rights being eroded away by the very leaders we elected to defend us. This fosters great divisiveness where there should be unity, and a cacophony of dissonant needs rather than a chorus of clear, strong demands. Without these things, we can hope to persevere for a time, but we cannot hope to stem, let alone reverse the tide of fundamentalist extremism here in America short of widespread violent insurrection of a kind not seen in over a century, where victory would not come without enormous personal cost, regardless of who initiates the conflict.
The Occupy Movement is truly a noble ideal. No other period of human history has seen such an incredible unification of people of different cultures, ethnicities, and beliefs across the world towards a set of common goals. With every passing day, new pockets of resistance pop up, and the grip of radical conservatism continues to tighten. As America approaches the coming presidential election, Occupy: America is stirring. Protesters in NYC have recently reclaimed Zuccotti Park with a vengeance, and the Occupy National Gathering is scheduled to take place beginning June 30th in Philadelphia, an event which is shaping up to possibly be one of the largest single protest actions in our nation's history. Great things are afoot, and the future of the movement is anybody's game. But the question remains: will Occupy: America elect a leader to stand forth and speak for the movement? Are we ready to organize and mobilize in true, national solidarity? Are we finally too angry to be afraid?
And if we are, is it already too late?
#ThaPink